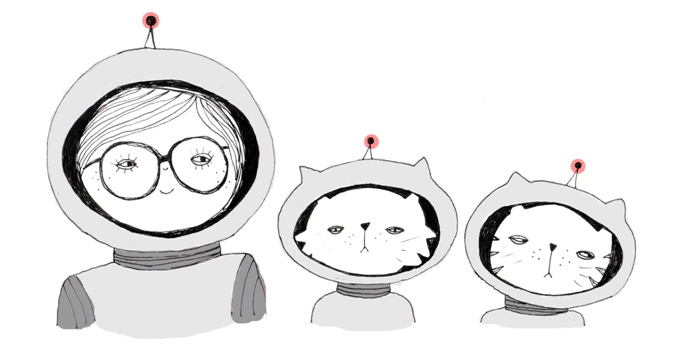 So this is me : a mid-twenties canadian girl currently living in Québec city, with two lazy but awesome
cats
Barracuda and Looping. I'm a full time student in rural engineering but also a very crafty girl who makes
zines
,
crochet
blankets, random
sketches
and
good cookies
. I use to take way too many
photos
with my nikon camera, one of the
ten things I would bring with me if I had to leave for another planet
. In addition to all this, I like earrings, crunchy peanut butter, The Office, coffee x2, the Magnetic Fields, black tea, indoor plants, the smell of old books, Hercule Poirot episodes with David Suchet, huge handbags, french litterature, my cats (not sure if I've mentioned this before), grilled cheese sandwiches, astronomy, bright nailpolish, old zombie movies, vintage floral patterns, traveling to Europe, Russian traditional music and autumn.
I'm writing blog posts most of the time with a cat sitting on top of me or very close to my computer keyboard. In fact, both of my cats are an integral part of this blog because they are the coolest cats I've ever met. Not only because I'm their "owner" but believe me, they are really cool - they understand english better than me sometimes (not bad for
french-quebecers
cats!).
So welcome into my world and I hope you'll enjoy your stay. If you want to ask me something or send me a link to your favorite song, feel free to visit the
contact
page.